Following the Iditarod this year was an experience that will not be soon forgotten. We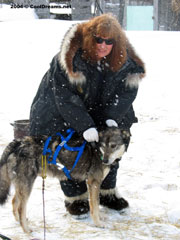 snowmachined the trail as far as Finger Lake. We spent three days in Ruby and made many new friends there. What a neat little village Ruby is, in a beautiful place and with such nice people. We were weathered-in in Kaltag, spending two days there where we got to see most of the back-of-the-pack mushers. We flew a looooong way in a small plane, which was sort of new to me and turned out to be a really nice way to travel, thanks to Earl Malpass and his careful flying skills. We did get to Nome, which was not originally planned, but we saw quite a few finishers in the day and a half we spent there. We saw many old friends and made more new ones. Nome is always a favorite place to come back to.

While we were not there to see him win, Congratulations go to MITCH SEAVEY as 2004 Champion!! We never pick one musher to "pull" for but were very happy to see Mitch win. His family has been involved in the Iditarod since Day One. All three generations of Seaveys ran together in 2001 when Dan, Danny and Mitch all competed in the race. Tyrell completed the Iditarod in 2003 and Dallas will run in 2005. Their entire way of life is mushing and they run IdidaRide Tours in Seward in the summer. What great icing on the cake for the Seaveys!!

We were happy to hear that Doug Swingley's eyes are most likely going to be okay. Melanie said the main problem was a tear production issue that contributed to the freezing of his corneas. He normally uses drops but of course, that would be impossible on the Dalzell Gorge. Best wishes to Doug as he heals.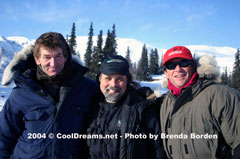 We are so happy for the many rookies who successfully completed the Iditarod this year. We got to know many of them out on the trail. It took awhile for me to realize that Jacob Lysyshyn worked with Jordan at the Seavey's Kennel last summer. Jacob was running Swingley dogs but had on a Seavey tee shirt and finally I put two and two together. Hah. Jim Conner, Rick Casillo, Ed Stielstra, Doug Grilliot and James Warren were some of the new Iditarod mushers we got to know a bit better and they were all just super-nice. We were happy to see Sue Allen go from an emotional low in Ruby, when her dogs were sick, her main leaders dropped and she was exhausted to seeing her again in Kaltag where the dogs had gotten well, gotten into their "zone" and she told us, "I'm afraid to say it….but I'm having fun out here!!" Congratulations to all the 27 rookies who have finished this year!! That must be a record number. There is one more rookie on the trail as I type, Perry Solmonson. I am keeping my fingers crossed and saying prayers for Perry as he and veteran musher G. B. Jones are still out on the trail.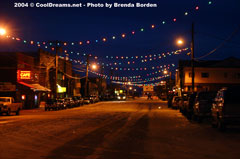 The blue lantern that is hung on the burled arch is the Widow's Lamp. It was lit on March 6th at 10:00AM and will remain burning as long as there are mushers out on the trail competing in this year's race. When the last musher crossed the finish line, it will be extinguished, signifying the official end of the 2004 Iditarod. The Red Lantern is sometimes confused with the Widow's Lamp but they are not the same thing. The first red lantern was awarded at the 1953 Fur Rondy Races as a joke but it has become a symbol of stick-to-itiveness in the mushing world. Earl Norris once said, "The idea was that the last fellow was so far behind he needed to light his way home."
Bill and I always sort of go through withdrawal as we prepare to leave Alaska. We spent today out in the bright sunshine riding up to Hatcher Pass, out some of the local back roads looking for moose and having dinner with our friends, Beth and Bill. Even though we've been in Alaska nearly a month this trip, time flies when we are here. We will finish up some business and catch an early flight out on Tuesday morning, bound for Atlanta.

We hope you have enjoyed our coverage of the middle to back of the pack folks. We have gotten many requests for copies of photos and will be selling prints soon. Check back with us for information of ordering copies.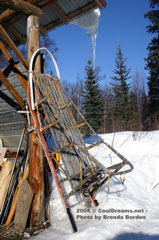 Check back on this page soon for more pictures
and the availability to purchase prints.
See the Cool Dreams Photos Page
for more 2004 Iditarod Photos and Photos of Bill's 2002 Cool Dreams Running of the Last Great Race
.