Restart is always such an exciting day. Mushers and dog trucks circle up like wagons in the parking lot of the Willow Community Center. There was lots of bantering back and forth b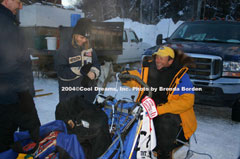 etween teams parked next to each other. One particular twist of fate put Martin Buser and Doug Swingley side by side. Doug took this opportunity to try out the new sled design being used by Martin and Jeff this year. I spotted Hans Gatt in the crowd snapping photos of this new design, possibly to be a Gatt design in the future? Libby Riddles was in the saddle of Jeff's sled trying it out nearby. It was interesting to be down near the chute where Vern Halter took off on time, but the next few teams were not quite ready and the countdown happened without them. When Rick Swenson arrived to the start line, the announcer said, "Rick can leave any time!!" There were a few teams for which this announcement was made before the rhythm was picked up by the handlers and ITC volunteers who were directing teams to the line with hand signals, traffic signs and such. Over the din of thousands of yelping, excited dogs, you cannot hear the person beside you much less the shouts of the person leading the team to the chute. It is always quite a massive production to get all the mushers launched.
Once the last musher left, Bill and I along with our friends, Missionaries Les Zerbe and Earl Malpass, grabbed cheese burgers being sold in the Community Center then drove our s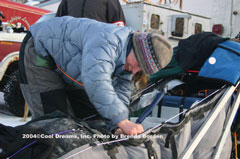 nowmachines over to Bill's Mom's house (who lives right there in Willow). Les and his son-in-law, Todd, headed back to Fairbanks. Earl, Bill and I packed our gear, strapped everything down and headed out, up the trail. Somewhere we took a wrong turn and toured a very picturesque section of trail before joining back up with the Iditarod Trail. We passed only one team on our way to Yentna and that was Rick Mackey. He was having some trouble and was not happy that his main leader had become ill with the same stomach symptoms that had already made the rounds through his kennel prior to the race.
At Yentna Station, we caught up with quite a few of the back-of-the-pack gang. Doug Grilliot, Sue Allen, Burt Bomhoff, Cindy Gallea, Perry Solmonson, Kelly Williams, Lynda Plettner, Mark Moderow, Ellie Claus and more were parked on the river when we arrived. Judy Merritt and G.B Jones had already left. Judy dropped Smoke at this checkpoint but he was up, wagging and doing fine when we saw him. Bill and Earl both were asked to help hold snowhooks and brakes while mushers readied their teams to take off. The snow was soft and hooks were not holding the teams. As mushers hook up and the dogs get excited and start pounding their harnesses, in these conditions, they can easily pop the hook. The mushers were happy to have Bill, as a veteran musher, there to hold their sled. While Bill was holding Perry's team, Cindy Gallea's team popped the hook. After Cindy yelling, "Whoa!!" several times, the team did stop but not in the order they started. She had a huge tangle. This is just one of the many adventures of being a dog musher. It took several minutes of moving dogs over and under the gangline, capturing a dog that got loose and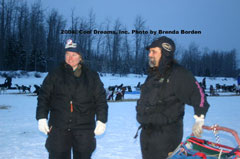 Cindy stopping a few snarling matches to get them back in order. As soon as she had them lined out, they powered up and all I saw was snow flying, Bill on the runners with full brake and snowhook applied and Cindy running after them. She jumped on the runners with Bill and even then they still steamed ahead. Those dogs were headed for Nome!! Once they got them stopped again, Cindy finished bootying her team, Bill stepped off the runners, Cindy stepped on and then BAM off she went into the sunset.
The Yentna Station Roadhouse was full. Dan and Jean were serving spaghetti, salad and r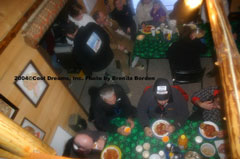 olls to the crew and us paying guests. Dan brought out his entire band and played for everyone. They were fabulous!! Gradually Bill, Earl and then I went to bed. Just couldn't hold our eyes open any longer and slept through some really good music. Getting TO the bed was interesting as there were folks sleeping in every nook and cranny of the lodge. The walkway along the loft, where many of the bedrooms are, was head to toe sleeping bags all lined out. There were folks under tables, on chairs, in every position. As sleep overcame consciousness, during the musical interlude, I heard lots of laughter downstairs as Iditarod memories were being made.