Today snow was falling early in the day; light, fine and dusty particles blowing for a few hours which coated all surfaces white again. Then the snow stopped and melting resumed. This confirmed rumors that the Restart would be moved to Willow on Sunday. The mushers will take off from Willow Lake behind the Community Center. From there, the trail will cross Long Lake, Crystal Lake and Vera Lake. Once off Vera Lake, the trail will travel down the Susitna River to the Yentna. Restart begins at 10Am Sunday March 7th. Parking is always at a premium so plan to be there early.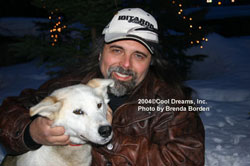 Our Cool Dreams dogs have been training with Judy Merritt. Judy gave us a call and we met her and her husband for dinner. They had been up from Moose Pass to ship her second sled out via air cargo. Bill was happy to see Priscilla.
A visit to Race Headquarters at the Millenium Hotel in Anchorage proved the massive amount of planning that is coming together to stage this year's Iditarod. Lois Harter had moved 3 vanloads of "stuff" to her new hotel home for the next several weeks. Veterinarians, Checkers and other staff were arriving with luggage while we were there. The Teacher on the Trail was in attendance also.