Today started out sort of slow. After riding the moguls in the dark last night for what seemed like a very long time, we were all sore and tired.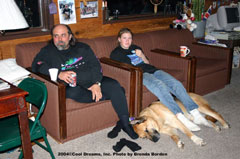 Sleeping in a bit at Yentna Station was the right thing to do. Once everyone woke up, coffee jump-started all of us. A bacon and egg breakfast was a great beginning to another long ride. Even though the distance was only about 40 miles, the gentle snowfall had increased to blowing almost white out conditions. I enjoyed seeing it fall as we ate breakfast but as we dressed to head down the trail, I could no longer see the trees on the opposite bank of the Yentna River out Dan and Jean's window. I think the weatherman may have been right on target with his storm prediction.

There is not a lot of news to write about our travels. Things went as well as could be expected. The typical rush of traffic out there was today limited to just freight sleds carrying lumber, gas barrels and large boxes of whatever. We did not pass many other recreational riders out today.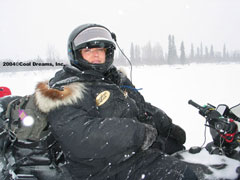 The mushers were speeding up their trail as we worked our way back toward civilization. The front-runners sped on to McGrath and Takotna. The hotly contested front of the pack has reshuffled multiple times. At this writing, Kjetil Backen is in lead. The middle and back of the pack are involved in competitions of a different nature, the proverbial race within a race. Two scratches have been noted as Jesse Beebe and Burt Bomhoff have thrown in their towels. Doug Swingley said on the evening news that he removed his eye goggles to see going down the gorge and is worried that he may have harmed his eyes. We too are reading updates (see below) on Iditarod's and Cabela's sites and worrying about who is where and why. Judy Merritt appears to be staying a very long time in Rainy Pass. We know she scratched in Rohn in 2002 after a crash in the Dalzell. We just hope history is not repeating itself. This year, mushers are not required to check out of the checkpoints. That means that we will not know for sure if they are still resting or if they have gone, until they reach the next checkpoint where they ARE required to check in. Another consideration is the huge low-pressure system sitting over interior Alaska right now. Blizzard conditions are expected in many areas. This could mean a whole different race in terms of mushers hunkering down during a storm.
Our plan is to fly on to some other checkpoints with our missionary friend, Earl Malpass. The weather could be a consideration in that plan as well. Check back often and we promise to update as much as we can.