Early today mushers began showing up at Iditarod Headquarters in Wasilla for final vet checks of their teams. Bloodwork, EKG's, chip reading, temperature reading, and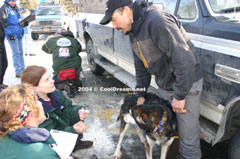 examinations of every toe pad, joint, tooth and eye happened during this extensive pre-race check-up. Mushers brought all dogs that may be on their team for this appointment. Sixteen will make the final cut for most mushers, and sometimes that is not decided until the morning of the Restart.
Quite a crowd gathered around G.B. Jones truck as he posed for photos and signed race programs. Joe Garnie was there as were Jason Mackey, Ben Stamm, Sue Allen, Peter Bartlett, Cindy Gallea, Dennis Kananowicz, Frank Silher and Ararad Khatchikian. Others came later in the day after we had left to go to the Media Briefing in Anchorage.
The Media meeting was an informative gathering for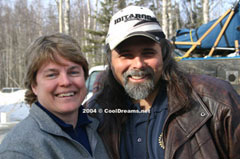 photographers, reporters and free lance journalists from around the world. The major sponsors of the race such as Cabelas and Wells Fargo spoke to the group as did the Race Manager, Jack Niggemeyer, Race Marshall, Mark Nordman, Executive Director, Stan Hooley and Race Director Joanne Potts. Statistics were given as to how much effort has gone into getting the race organized to this point. 13,500 small wooden laths were place along the 1151-mile route; 10,800 feet of survey tape has been used to mark trail; 90 tons of dog food has been shipped; $32,000 in postage has been spent and approximately 25,000 cups of coffee were consumed while making the race come together.
Officials discussed their having to be "nimble and reacting to Mother Nature as they needed to" this year while watching what seemed to be a perfect snow year deteriorate in the last couple of weeks enough to force moving the restart and cutting the ceremonial start short. This year the mushers will again take out at Campbell Airstrip on Saturday instead of going on to the Eagle River checkpoint.
This year's race will have a record number of starters. Seventy men and seventeen women who compete on equal terms. There are five former champions entered : Rick Swenson (5X), Martin Buser (4X), Doug Swingley (4X), Jeff King (3X) and Rick Mackey (1X). There looks to be quite a competitive bunch heading up the trail to Nome. There are new sled designs, new gangline arrangements, and other little tricks that could make an impact on how the race is run this year. It should be quite exciting!!
After the briefing, Bill and I attended a make-up Rotary meeting with the Anchorage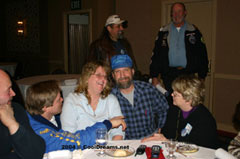 Midtown Club at 6PM. Former Mayor of Nome, Leo Rasmussen, attended with us. One of the members was a former Boy Scout Executive so I discussed with him my work on a proposed BSA Dog Mushing Merit Badge. As the meeting broke up, the reception and dinner for musher John Baker was taking place in the ballroom next door. We stopped in to visit with friends from previous races and wish John Baker good luck. John does school appearances in Native villages all over the North Slope giving kids a good role model and hero to follow in the race. Other mushers were there such as John Barron, Bill Cotter, Dean Osmar, Tim Osmar, and Paul Gebhardt. As we left the Millenium Hotel, snow was falling briskly and making the roads quite slippery as we headed back to Wasilla.