Today was one of regrouping. Here at our house, the phone started ringing at 5:30AM with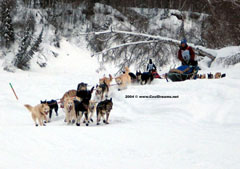 calls about where Judy Merritt was on the trail. The stats showed her leaving Rainy Pass at 11:50AM yesterday. And no more news has come through the communications food chain since. Her husband and other relatives were hoping to get some "official" word (Can you imagine not knowing? I can, from Bill's 2002 race) as to what is/was going on out there. Finally, one of the phone calls suggested that Judy had gotten caught by the big storm and was somewhere on the trail, on this side of the pass, camped out. Not too much time elapsed until we received word from her husband, Bill Merritt, that the trail sweeps had gone out to look for her. They did find her trying to get her team moving since the snow had slacked off. The sweeps allowed Judy to call home with their satellite phone and speak to her husband, who called us to report that she IS moving. Now we wait. And pray.
We can only hope that Judy and some of the other back-of-the-pack mushers are not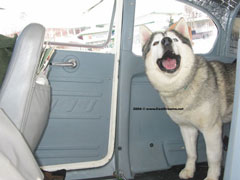 beginning to feel the "why am I here?" type thing that happens after days of hectic preparations and then quickly diving into round-the-clock work with the team on the trail. The mental state of the musher is key to finishing the race. Sleep deprivation contributes to the feelings of despair when the musher is tired, cold, missing their family and questioning their sanity of ever attempting to make a thousand-plus mile journey on the back of a dog sled. Cabela's site has a very good article on mental state. Click here to read the article. It is very true that finishing the Iditarod has MUCH to do with mental toughness and determination.

On another note, Earl, our pilot missionary friend, was up early to check weather patterns, as he needed to go down to Anchorage to get his plane back to Fairbanks. Bill took him down in the late morning. While Bill was in town, he checked by headquarters at the Millennium Hotel. Here he was able to speak to Melanie Shirilla, Doug Swingley's wife, and got the scoop on Doug scratching from the race. To aid visibility going down the Dalzell Gorge, Doug had removed his goggles, which were frosted up. Doug had recent corrective eye surgery and this leaves the corneas very sensitive to temperature extremes. One of Doug's corneas froze while going down this treacherous section of trail in sub-zero temperatures without eye protection. This caused him to lose depth perception and he managed to get a stick in his other eye. After realizing the blurry vision was not improving, Doug was able to call his ophthalmologist who told him it would be a good idea to get back and have it properly diagnosed. So Doug scratched. On tonight's evening news on TV, Doug said, "I'm pretty disappointed, fourteen years in racing and I've never done this before."
Bill saw one of Doug's dogs, Ricky, out on the dropped dog line behind the hotel. He helped volunteers catch an Aaron Burmeister dog that got loose. Other officials were packing to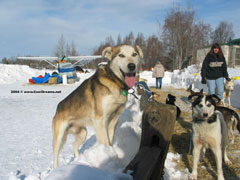 leave for destinations out on the trail. The hotel was a beehive of activity as volunteers were selling shirts and souvenirs, dog handlers were dealing with dropped dogs, the communications center was constantly updating musher positions and coordinating flying out vets from one checkpoint to the next, etc. etc. This race is a massive undertaking and the mushers are now stretched from Cripple back to Judy, who is finally into Rohn at 9:10PM. Hurrah!! On the stats, you can now see that a few mushers have taken their 24-hour layovers as the jockeying for position becomes even more intense.