Today was a day to ready ourselves for the hectic days to come. A little rest, some mortgage loan application appointments (have to pay the bills) and a trip to "Bill's Cat House," the local Big Lake Arctic Cat Dealer,

to have our snowmachine tracks equipped with one-inch spikes. This will allow better hill climbing on the Iditarod trail due to the recent warn weather and melt, we expect to encounter ice on he trail.

From our experience when Bill ran, we can say that right now mushers are making last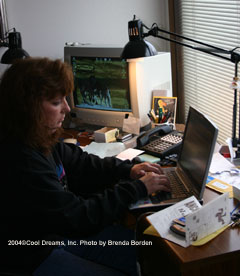 minute preparations, packing sleds, strawing dog trucks, trying to borrow sleds for the ceremonial start, all the while still feeding teammates, cleaning up after them, exercising and running them to keep in shape right up to the last minutes before the race. Mushers, in addition to the logistics of preparing for the race of their life, also are mandated to be at meetings and events over the next several days. Vet checks for the team are on Wednesday; the Musher's meeting is on Thursday morning to hear about the trail conditions and last minute rule changes; lunch with their Idita-rider on Thursday and then the grand starting banquet on Thursday night to draw for their starting order. Even with the dinner staring at 6pm and a limit of one minute (ha ha) per musher to thank their sponsors, we are expected to be done sometime after midnight.