Race Start!! What a beautiful morning to drive into town under a full moon shining on the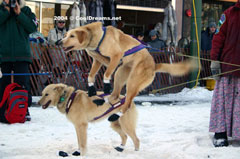 new snow from Thursday. We passed a virtual parade of dog trucks heading into town. I recognized Doug Grilliot, Doug Swingley, a Mackey and Peter Bartlett. But there were many others. The Hay Flats were abuzz with at least 24 moose that I counted within seeing distance of the road!! I'm sure there were lots more in the willows.
We arrived early enough to get a decent parking spot near the start line. Bill had to hike down 4th Avenue quite a ways as Judy drew bib #10 and the lowest numbers are furthest from the start line. I took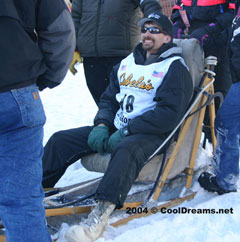 my time and meandered up some of the side streets to visit other teams. Everyone was jovial and busy entertaining media, fans and onlookers as they prepared for the short 11-mile run over to the airstrip before taking out to go home. Doug Swingley appeared focused. Jeff King was chatting with reporters. Sue Allen was upbeat and looking happy. Judy Merritt was busy dressing her team in colorful bandanas. Smoke, Priscilla, Pony, Pinky and all the others were yipping and bouncing around. Libby Riddles was trying Jeff's new sled design out. The Seavey family was getting Mitch ready for his send-off. Nicole Osmar and tag sled driver, Jeremy Hoover, were having fun taking out the first sled. All the mushers took off at 2-minute intervals so the start took several hours, as you can imagine. Dean Osmar took out the last sled, just to keep it all in the family.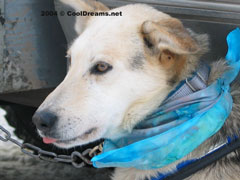 After all the mushers had left, we stopped off at the White Spot, a local downtown eatery, with some of our Idita-friends for lunch. A stop to Costco and other little errands were all that stood between us and a short nap. A birthday dinner for John Redmond, Bill's Mother's other half, was held at Lake Lucille Restaurant. Our friends, Missionaries, Earl Malpass and Les Zerbe, came down from Fairbanks area to join us and will be taking us up the trail in their planes. After dinner, everyone pitched in to help Judy pack her sled in our garage. I could hear lots of hammering, laughing, and shuffling around going on while I typed this update. I'm sure Judy could've used some more sleep but then too, I remember how Bill felt the night before his race and sleep is sometimes not possible.