Sunday morning in the Ungry home was bustling with activity, as we all got ready to go to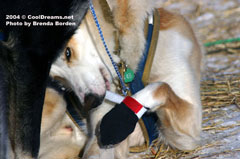 church. Earl Malpass retreated into Tim's study to prepare for his sermon. The family discussion centered on whether or not the veterinarians may have cleared out of the sanctuary in time for the service. (If not, we figured they could just stay and listen.) We loaded up the truck, grabbing the vacuum cleaner and drove down to the church check it out. Viola!! Everything was clean and neat. The checkpoint was pretty much deserted as all of the mushers had pulled up stakes and hit the river during the night. Not too much time elapsed until someone yelled, "Team coming!!" In quick succession, Rick Casillo, Harmony Barron, Jacob Lysyshyn and Matt Weik pulled in and were parallel parked beside the church building. Each musher strawed their dogs, pulled out various cookers to make a warm meal for their teammates and took time to regroup.
It was eleven o'clock before we knew it. Earl gave a timely sermon on facing one's fears as mushers were individually doing just that out on their Iditarod races. The small log sanctuary was full. Announcements were made and heartfelt prayers were spoken, some for Sue Allen whose team had stalled outside town and some for all the other mushers struggling out on the trail. The offering was a good one and everyone seemed to enjoy hearing Earl preach, as he was the fly-in pastor here for six months last year.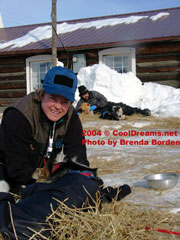 After services, we drove back to the house. Bill borrowed Tim's snowmachine to drive out the trail in search of Sue and her team. Just a few minutes passed when the phone rang and a buddy had called Lisa Ungry to let her know a team had pulled in. It was Sue Allen!! Bill called on the two-way radio, saying the same thing, as he had just rounded the bend outside of town when he passed Sue on her way in. Sue had been on the trail between checkpoints for over a day, for a trip that should have taken just 9-12 hours. Sue's leader, Yuban, had had enough and laid down twenty miles from Ruby. Over the course of several hours, Sue tried different dogs to get the team going. When Sue tried little Sydney, one of Bill's 2002 Cool Dreams dogs, up front, Sue said Sydney was tugging the line and raring to go. Once Sue got some of the other dogs inspired, Sydney saved the day by leading Allen's team in to Ruby.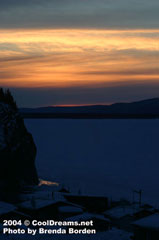 We all loaded back in the truck to go greet Sue. Needless to say, she was extremely happy to finally be in Ruby. After snapping photos and expressing well wishes, we scooted out of Sue's way and went back to try the pizza that Lisa had baked for a late lunch. Afterwards, Bill worked on sizing photos for this site and I worked on captioning. Time-consuming work, this web site stuff is!
Later in the evening, we stopped back by the checkpoint to see how Sue was doing. She was worried about Yuban and had the veterinarian look her over. Some type stomach ailment seemed to be the diagnosis and pills were prescribed. We left Bill there with Sue and the checkers as the sun sank behind the cliffs. The rest of us went back to the house to listen to a taped sermon on "Deacon's Dog Team," appropriate subject matter for today. While Bill hung around the Community Center, Perry Solmonson hit town in very good spirits and got his team bedded down. Perry told Bill of his many prayers answered on the trail. O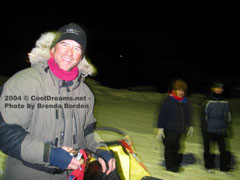 ne story Perry revealed was of his trip through a whiteout situation outside of Rainy Pass where his dogs had taken a wrong turn around a hill that they should've gone up. Perry set his hook and went to the front of the team to redirect his leaders. He was deciding how to keep the leaders at the top of this hill while he went back down the hill to release his snow hook. When he turned around, out of the snowstorm appeared a man who offered to hold his leaders. Thankful for the help, Perry went to release the hook and continue on his way. He turned around to say thanks to the man and all he saw was a snowstorm.