After fried eggs and toast, Bill and I hopped on the snowmachine to see who was still parked in Kaltag. Sue Allen and James Warren had left at about 6:00AM and Perry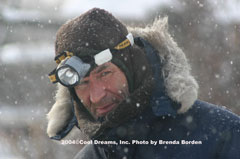 Solmonson left about 8:00 but Steve Madsen was still parked and G.B. Jones had just pulled in. G.B. was gathering his drop bags and fetching hot water to cook for his team while Steve was gearing up to leave. Race officials were suggesting that G.B. needed to pick up the pace and he heartily agreed. His dogs had been making about 3 mph average and he was lacking leaders. G.B. said he was determined to make it to Nome, in spite of everything. "Scratch is not in my vocabulary."

Before we knew it, time and weather were closing in and we needed to get to the plane.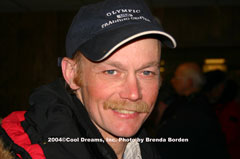 Earl had already been to the airport, warming the engine. We said our goodbyes to the Day family then we zipped up our bags and zipped into the air. I will have to say the ride from Kaltag to Nome involved a few bumps in the air, not my favorite part, but Earl did a great job jockeying us around the clouds to try to avoid the turbulence. We soared over many parts of the trail that Bill could identify from the air: the Blueberry Hills, Little McKinley, Topkok, etc. We spotted The Last Train to Nowhere, the gold dredges, Safety checkpoint, Fort Davis Roadhouse and all the landmarks familiar to Nome. After we landed, and hitched a ride from the airport, we heard the sirens going off and a musher was spotted coming in, Tim Osmar. We made a quick pass through headquarters as the Seavey family was coming in. Big congratulations to Mitch and Janine, Dan and Shirley were expressed. A short while later, Dee Dee Jonroe passed under the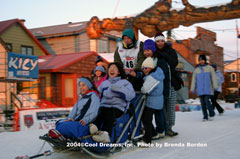 burled arch and right behind her, Jerry Sousa. Libby Riddles was in the crowd watching the incoming finishers. Of course we had to stop by Fat Freddies for dinner where we continued to meet lots of Idita-friends from years past. A steady stream of mushers including Ken Anderson, Jim Lanier and Paul Gebhardt came in as the sun set behind Iditarod Headquarters.
Later in the evening, we stopped by Leo and Erna Rasmussen's home for dessert and coffee and met lots of new friends. We walked back to headquarters to type our update. The temperature was –5 degrees and the stars were out overhead. However, word around headquarters was that Race Judge, Andy Anderson, was advising mushers not to leave White Mountain in current storm conditions. Probably Rookie of the Year, Hugh Neff, is expected in Nome soon.