Mushers began arriving on the Chena River early Monday morning among the workaday crowd in Fairbanks. The River was frozen to a depth of at least 31" and made a great place for the historic restart of Iditarod 2003. The temperature was around +25 degrees when the teams began heading into the chute. The dogs were much more vocal here on the river, in the cooler temperatures, than they were on 4th Avenue on Saturday. The setting was just perfect for the restart with the Pike's Landing having large outdoor decks overlooking the River and a Princess Lodge next door. Many local schools let the students come down to watch the restart which was reallly neat.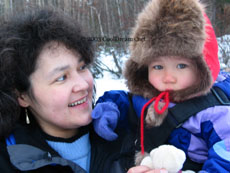 Most mushers seemed relaxed and not at all concerned about the change in route. Many were actually sort of glad to be seeing some different terrain. The ITC has been examining trail conditions since January and chose this trail as safer for the dogs and mushers. In talking to Janine Seavey, Mitch seemed the most relaxed he has ever been for an Iditarod and Tyrell was in great spirits as his grandfather, Dan Seavey, and Jim Gallea helped him to the starting line. Johnny Baker's wife and child were having fun waiting for Dad to take off.
Karen Ramstead's Siberians were as beautiful as ever and were anxious to get on the trail. Rookie Blake Matray was happy to be starting in Fairbanks since more of his friends and pilots from Eielson Airforce Base were able to come watch him head out on the trail.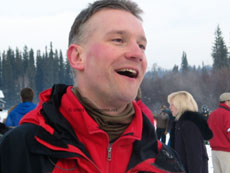 Last year Blake had to withdraw from Iditarod when he was called to active duty. Our friend Mike Suman was helping rookie Dexter Kancer get ready. G.B. Jones, "the man without a truck," was getting organized with all his gear spread out on a blue tarp. G.B jacknifed his truck and dog trailer on the drive up yesterday; no injuries but it was enough to upset G.B. understandably so. But he was in good spirits as always, ready to head out on the trail, and was last seen jogging to the starting line.
Dogs and fans alike were excited about the new location of the restart.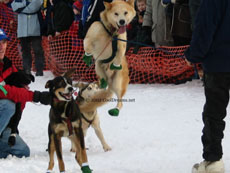 I overheard several say that they were going to write letters about how nice the Fairbanks location was for today's festivities. The last musher pulled out of the chute about 12:30PM Alaska time, heading out for the new trail. First stop is Nenana, then on to Manley and next, Tanana. Good luck mushers!!