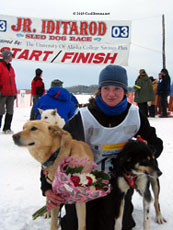 The mushers all pulled into Sourdough halfway checkpoint last night by midnight. They were required to stay 8 hours, not ten. They were not allowed to have the traditional bonfire due to a peat moss ground cover under the snow that could've caught fire and spread. Instead they had a barrel of wood burning where many of the kids congregated and talked shop. A birthday cake was seen passing around to celebrate Ellie Claus's birthday. Check our cooldreams photo page for Junior Iditarod to see lots of great shots from the evening.
Today, Ellie Claus, won the race with a great looking team of dogs around noon. Dallas Seavey came in second, Nikolai Buser third, Tessa King fourth and Max Kornmuller rounded out the top five. The final statistics can be seen at www.dogmushers.
com/03jriditarod/jr-finish-lakelouise.html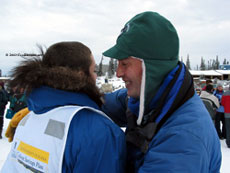 There were lots of fans, parents and volunteers around Lake Louise enjoying the race. Brenda hooked up with Idita-Support members, Marlene Daniel, aka Montana's Lurking Granny, and Brenda Sperry from Colorado. John Baker's son, Alex Westlake, finished sixth and is seen here sharing a big hug with his proud Dad.
Fourteen mushers were in by the time the Finishers Banquet began at Wolverine Lodge at 5PM. Fifteenth place finisher, Elisabeth Haberman, came in while everyone was enjoying their lasagna dinner. There were lots of neat prizes this year including $10,000 in scholarships from the Alaska College Savings Plan. Dallas Seavey was awarded the Sportsmanship Award, Tessa King received the Humanitarian Award and Vanilla (Elllie's lead dog) received the Blue Harness Award.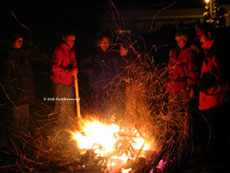 The kids retreated outside for a bonfire built by Martin Buser and his wife, Kathy, while waiting on the final finishers. A bit of comic relief was provided when Tree Farmer and other interested parties set the poles of the finish line ablaze with Heet to welcome an incoming musher seen only by headlamp. It turned out to be Iditarod Rookie, Ellen Halverson, who was out on a trainging run. Jacob Gauthier, Jeremy Hoover, and Katrina Rix all finished before midnight. Katrina Rix was named Red Lantern.